联合开发,联合用药:誉衡生物与华辉安健宣布开展免疫检查点抑制剂PD-1+TIGIT联合用药临床研究战略合作
2023年2月9日,广州誉衡生物科技有限公司(以下简称"誉衡生物"),一家立足中国、面向全球聚焦于肿瘤免疫治疗领域的创新型生物制药公司,今日与华辉安健(北京)生物科技有限公司(以下简称"华辉安健"),一家专注于病毒学、肝病学和相关肿瘤学领域创新药物研发的临床阶段生物科技公司,共同宣布建立临床研究合作伙伴关系。双方将就誉衡生物的抗PD-1单克隆抗体赛帕利单抗注射液(商品名:誉妥®)和华辉安健的抗TIGIT单克隆抗体HH-101注射液展开联合治疗临床研究,旨在评估该联合用药在多种实体肿瘤患者中的有效性和安全性。
基于合作协议,双方将首先开展中国临床Ib期多中心联合用药的合作研究,探索在包括肺癌和其他妇科肿瘤等多种类型肿瘤的潜在适应症开发,后续根据合作进展再进一步扩大相应的适应症和合作领域。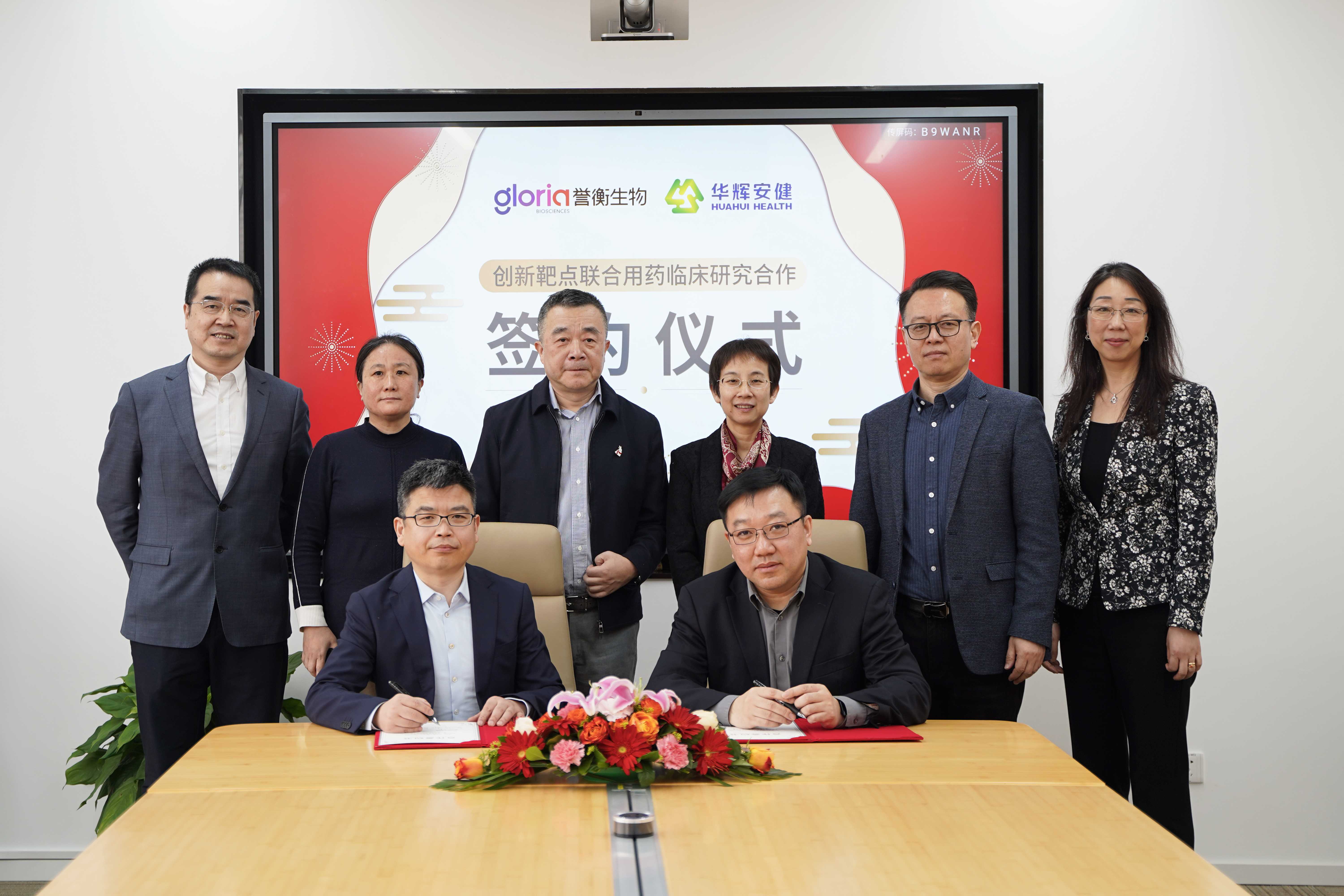 誉衡生物创始人朱吉满先生表示:"作为广谱抗癌药和肿瘤免疫治疗的基石药物,赛帕利单抗已在多个瘤种的单药和联合治疗临床试验中显示出了良好的安全性与疗效。同时,誉衡生物通过符合世界级标准的GMP生物药生产线,全力打造高质量高标准的抗体治疗产品,并努力为全球患者提供更好疗效、更加经济的治疗选择。我们希望通过与华辉安健的合作,继续探索赛帕利单抗与创新药的联合潜力,进一步提升肿瘤免疫治疗疗效,为更多患者带去希望。"
华辉安健首席执行官陈彬博士表示:"HH-101注射液是华辉安健公司首个获准开展临床试验的抗肿瘤药物,在临床前研究中与抗PD-1抗体联用表现出了优异的抗肿瘤活性,目前I期临床试验数据也显示了良好的安全性与初步疗效信号。我们期待在与誉衡生物的合作中,进一步发挥双方优势,携手努力,使我们的创新联合疗法可以早日惠及患者。"
与PD-1类似,TIGIT主要表达在T细胞和自然杀伤(NK)细胞表面,是一种肿瘤免疫的检查点蛋白。HH-101注射液是由华辉安健自主研发的全人源抗TIGIT单克隆抗体,具有增强的Fc效应功能。与其它TIGIT抗体相比,可以更高效地清除Treg细胞;相对目前其他在研产品,存在一定潜在治疗优势。HH-101注射液已于2021年11月22日获准在中国开展晚期实体瘤临床试验,目前处于I期临床试验中。
赛帕利单抗注射液(誉妥®)是全球第一个使用国际先进的转基因大鼠平台(OmniRat®)自主研发的全人源抗 PD-1 单克隆抗体。2021年8月25日本品的首个适应症复发或难治性经典型霍奇金淋巴瘤获批上市,并于2020-2022年连续3年入选《CSCO 淋巴瘤诊疗指南》,并获得专家的II 级推荐;2022年3月,国家药品监督管理局正式受理了复发或转移性宫颈癌的上市申请,并纳入突破性治疗品种。本品的临床研究结果显示,治疗复发或难治性经典型霍奇金淋巴瘤客观缓解率ORR达92.86%,疾病控制率DCR为96.43%,1年生存率OS达99%。目前赛帕利单抗注射液的海外市场由吉利德/Arcus负责开发,针对TIGIT+PD-1靶点联合用药已进入2项关键的III期临床,适应症为非小细胞肺癌。海外多个 II期临床试验展示出了积极的数据,在机制上为即将开展的联合用药合作提供了有力的支持。
目前,赛帕利单抗已在全球(包括中国、美国、日本、韩国、欧洲及东南亚等地)开展了覆盖超过20个适应症、30多项由公司或合作伙伴发起的单药或联合用药的临床研究。正在进行的临床研究在多个瘤种范围内评估赛帕利单抗的安全性及疗效,包括膀胱癌、宫颈癌、子宫内膜癌、食道癌、胃癌、头颈癌、肺癌、肾癌、乳腺癌、结直肠癌、黑色素瘤、卵巢癌、前列腺癌、肛门癌、胆管癌及肝癌等。在研究的联合用药包含多个具有first-in-class及best-in-class潜力的创新靶点,包括CD47、CD73、TIGIT、A2aR、CCR8、LAG-3、CD40、CD39、Trop-2 ADC、HSP90a、CAR-T和Neo-T细胞治疗等。
HH-101是由华辉安健自主研发的靶向免疫检查点TIGIT抗体新药,目前正在北京大学肿瘤医院开展一项旨在评价HH-101注射液单药治疗晚期实体瘤患者的安全性、耐受性、药代动力学和初步疗效的I期临床试验。该项临床研究的主要研究者、北京大学肿瘤医院沈琳教授指出:"华辉安健自主研发的HH-101具有增强的Fc效应功能。与普通TIGIT抗体相比,可以更高效地清除Treg细胞;相对目前其他在研产品,存在一定潜在优势。"
誉衡生物是一家成立于2016年的创新生物制药公司,汇聚了具有国际视野的专业医药开发和管理团队。誉衡生物秉承开放、合作的核心价值观,立足国内放眼全球,聚焦肿瘤药物的研发、生产与销售。誉衡生物第一个商业化药品赛帕利单抗注射液,是基于全球领先的转基因大鼠抗体研发技术平台开发的新型全人源抗PD-1单抗,首个获批适应症复发或难治性经典型霍奇金淋巴瘤有效率高达92.86%,将惠及淋巴瘤患者的长期生存。誉衡生物以提高用药可及性,降低用药负担为使命,遵循ICH和GXP的规范,整合利用经广泛认证的先进技术平台和符合世界级GMP标准的生物药生产线,同时凭借已被验证的临床前及临床开发实力,与国内外合作伙伴通力合作开发最前沿的生物医药产品,满足医疗需求和治愈病患。
华辉安健是一家2015年创立于中国北京,专注于病毒学、肝病学和相关肿瘤学领域创新药物研发的临床阶段生物科技公司。公司聚焦抗病毒(新冠、乙肝、丁肝)和免疫肿瘤学领域,具备从药物发现、临床前开发、转化科学研究、临床开发到生产与注册的"端到端(end-to-end)"能力和完整体系。目前,公司有5款具有潜在"First-in-Class"或"Best-in-Class"的在研药物处于不同临床开发阶段,包括有望实现慢性乙肝功能性治愈的单抗药物HH-003和HH-006、全谱抗新冠病毒融合蛋白HH-120、免疫肿瘤抗体HH-101等。公司各管线的临床研究开发工作立足中国,并已经或即将在澳大利亚、南非及美国等国家开展,致力于让我国自主研发的创新药物尽快造福全球患者。
Gloria Biosciences and Huahui Health Announce Clinical Collaboration to Evaluate Zimberelimab in Combination with Anti-TIGIT mAb HH-101 for the Treatment of Patients with Solid Tumors in China
February 9, 2023, Gloria Biosciences (GloriaBio), a commercial stage biopharmaceutical company committed to the discovery, development and commercialization of novel biologics in immuno-oncology, and Huahui Health (Huahui),
a clinical-stage biotechnology company focused on discovery and development of innovative drugs in virology, hepatology and oncology, jointly announced a clinical research collaboration agreement to evaluate the combination therapy of GloriaBio's zimberelimab (Trade name: YuTuo) with Huahui's anti-TIGIT monoclonal antibody, HH-101 injection, in patients with multiple cancer types in China.
Under the collaboration agreement, two companies plan to collaborate on Phase 1b clinical study to evaluate the safety and preliminary efficacy of zimberelimab and HH-101 combination therapy in patients with multiple cancer types, including lung cancer and gynecological cancers. Two companies also agree to potentially expand collaboration scope with respect to indications and other business areas.
Dr. Jiman Zhu, founder of Gloria Biosciences, commented, "As a cornerstone cancer therapy with broad-spectrum anticancer activities, zimberelimab has demonstrated good safety and efficacy in monotherapy and combination therapy clinical studies in multiple tumor types. GloriaBio is committed to creating high-quality and high-standard antibody therapeutics through world-class GMP production line, and is striving to provide patients around the world with more effective and cost-efficient treatment options. We hope, through the collaboration with Huahui, we will continue to explore the combination potential of zimberelimab and other innovative agents to improve the outcomes of immune-oncology therapy to address unmet medical needs of more patients."
Dr. Bin Chen, CEO of Huahui Health, added that "HH-101 injection is Huahui's first oncology asset that enters clinical stage. It has shown promising anti-tumor activity in preclinical studies standalone or in combination with anti-PD-1 antibodies, and it has also demonstrated good safety and preliminary efficacy signals in current Phase I trial. We look forward to further leveraging the strengths of both companies in our collaboration with GloriaBio, and expediting clinical development of our innovative pipeline asset."
Similar to PD-1, TIGIT is an immune checkpoint protein receptor mainly present on the surface of natural killer (NK) cells, activated CD8+ and CD4+ T cells, and Tregs (regulatory T cells). Developed in-house by Huahui, HH-101 injection is a fully human anti-TIGIT monoclonal antibody with enhanced Fc effect function. It is designed to clear Treg cells more efficiently than regular anti-TIGIT antibodies. Compared to other anti-TIGIT antibodies under development, HH-101 has the potential to offer superior anti-tumor effects, which is to be tested in clinical studies.
Zimberelimab is the world's first fully human monoclonal antibody that binds to PD-1, using transgenic rat platform, OmniRat®. The first indication for the treatment of relapsed or refractory classical Hodgkin's lymphoma (r/r HL) was approved in China on August 25, 2021. Zimberelimab has been included in the "Chinese Society of Clinical Oncology (CSCO) Diagnosis and Treatment Guidelines for Malignant Lymphoma" with Class II recommendations in 2020, 2021 and 2022, respectively. Zimberelimab has also been designated as Breakthrough Therapy by China's Center for Drug Evaluation for the treatment of recurrent or metastatic cervical cancer. The New Drug Application ("NDA") of cervical cancer has been accepted by the NMPA in March 2022, and is currently under approval process. In the pivotal clinical study of r/r HL, patients were observed with the ORR of 92.68% and the DCR of 96.43%, and the 12 month overall survival rate is 99%. GloriaBio subsequently out-licensed zimberelimab rights to Arcus, excluding China and certain other territories. Arcus, in collaboration with Gilead Sciences, is conducting multiple trials to evaluate zimberelimab in subjects with multiple cancers. Zimberelimab in combination with Arcus' anti-TIGIT antibody (AB154) in patients with PD-L1-positive locally advanced or metastatic NSCLC has entered two pivotal studies backed by positive data readouts from global Phase II studies.
Currently, zimberelimab has been studied in more than 30 company- or partner-initiated clinical studies, either as a single agent or in combination, in more than 20 indications worldwide, covering China, the United States, Japan, Korea, Europe and Southeast Asia. Ongoing clinical studies are evaluating the safety and efficacy of zimberelimab across multiple tumor types, including bladder, cervical, endometrial, esophageal, gastric, head and neck, lung, kidney, breast, colorectal, melanoma, ovarian, prostate, anal, bile duct and liver cancers.
HH-101 is a fully human, anti-TIGIT monoclonal antibody originated at Huahui Health. Compared with other anti-TIGIT antibodies, HH-101 is with enhanced Fc region, which may potentially lead to more effective Treg depletion and consequently improved anti-tumor effects. HH-101 injection is approved for clinical trial in advanced solid tumors in China, in November 2021 and is currently in Phase I trial.
Founded in 2016, Gloria Bioscience is a commercial stage biopharma company exclusively focused on development and commercialization of biologics in the therapeutic areas of immuno-oncology diseases, bringing together a seasoned development and management team with global versions, and dedications to developing patient-centered treatments. The first commercialized drug, zimberelimab injection, is a novel fully humanized anti-PD-1 monoclonal antibody developed on the world's leading transgenic rat antibody development platform, with an efficiency of 92.86% for the first approved indication of relapsed or refractory classic Hodgkin's lymphoma. With its mission of improving affordability and reducing the cost burden, together with its domestic and global partners, Gloria Biosciences is striving to build a pipeline of more effective treatment alternative for cancer patients, including innovative monoclonal and biospecific antibodies, with cutting-edge discovery platforms, proven clinical development expertise, and world-class GMP-compliant manufacturing capabilities.
Founded in 2015 in Beijing, Huahui Health is a biotech enterprise specialized in virology, hepatology and oncology. The company is dedicated to the research and development of "First-in-Class" and "Best-in-Class" therapies to address unmet medical needs for patients across the globe. With close to 200 employees, the company has established end-to-end R&D capabilities for novel therapies. There are five candidate drugs currently in clinical stage, including two virology products (HH-003 and HH-120) that are expected to initiate pivotal studies soon.